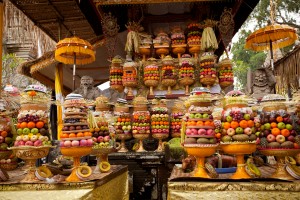 If you have flown thousands miles to explore the Island of Gods, Bali, you should not miss one of the most important cultural religious ceremonies, Galungan. This special day is believed as the descent day of the Balinese Gods, including Sang Hyang Widhi, accompanied by the ancestor spirits to the earth.
The word "Galungan" is derived from ancient Java language meaning to win or to fight. On Galungan, Balinese honor the triumph of the decency against the villainy. To laud the glory, the people reunite with the whole family and crafts offering for the temples and the houses. Tall bamboo poles called penjor are usually put in front of houses as the symbol of the religious festive. Always falling on Wednesday, Galungan is celebrated every 210 day.
Kuningan
After 10-day visit to the earth, the Gods and the spirits ascend back to heaven. Yellow rice is prepared as the offerings to Gods before they return to nirvana. Kuningan is marked as the end of the Galungan ceremony series.
References
Anonymous (27 March 2013). Hari Raya Galungan dan Kuningan 2013 di Bali. Retrieved October 21, Monday, 2013 from http://www.indonesia.travel/id/event/detail/618/hari-raya-galungan-dan-kuningan-2013-di-bali.
Stefan Russel. Galungan. Retrieved in October 21, Monday, 2013 from http://www.vilondo.com/when-to-go-to-bali/balinese-holidays/galungan/.