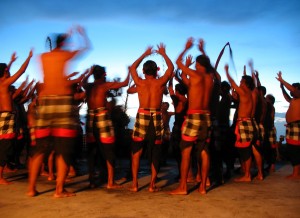 "Cak,cak,cak" the sound was airing on that small amphitheater followed by a hundred men with their checkered pattern sarong-but were naked above the waist, raising their hands while their muscular feet stepping  on the stage"
In 1930s, the scene is initially created by a German painter and musician, Walter Spies. He once witnessed a Balinese trance ceremony. A light bulb went off in Spies' head to bear an art inspired by this tradition. Collaborating with a Balinese dancer, I Wayan Limbak, Spies transformed the ritual into an aesthetic dance- which is presently notable as Kecak.
Combined with the romantic story of Ramayana, Kecak really hypnotizes the spectators with its powerful but full of gist movements. From the opening, this art show radiates the energy of the 50 to 150 dancers that chant "cak, cak, cak". Those bare-breasted men then form a circle and seat on the stage before the envisioning story of Rama's struggle in rescuing Sita begins.
This quaint show now is staged everywhere in Bali, such as Uluwatu, Gianyar, even in hotels. One of the 5-star beachfront resorts, Grand Mirage picks up this show to entertain the guests during their Balinese cuisine feast on Saturday evening at Rama Stage.
References
Kecak Dance History Bali (2012). Retrieved November 1, Friday, 2013 from http://host-culture.blogspot.com/2011/04/kecak-dance-history-bali.html.
Dibia, I Wayan (1996). Kecak The Vocal Chant of Bali. Denpasar: Hartanto Art Book.
***
Grand Mirage Resort and Thalasso Bali is a beachfront resort featuring all inclusive package with unlimited fun. 301 elegant rooms and suite, 2 exquisite bars, and 3 fine restaurants are wrapped in an elegant but artful building of this Bali hotel.