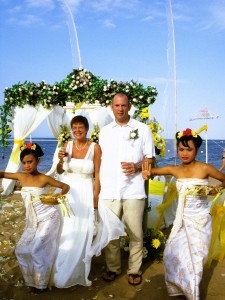 Tuesday, 9 August 2011, Grand Mirage
Resort witnessed the wedding of British couple, Paul Davidson and Dawn Beattie. Attended by 21 guests, their family and friends were happy for their beautiful and memorable wedding. As Paul and Beattie stepped forward to perform their vows of eternal love the bride looked beautiful in her simple,but elegant wedding dress of white. While the groom was relaxed, dressed a white short-sleeved shirt.
Beattie admitted that she was very happy with her ​​marriage. "We are finally getting married after 11, 5 years," she said happily.
The "Wedding Sand Ceremony" package was the theme for their wedding. The Wedding Ceremony area decoration was dominated by white and yellow infusion reflecting a warm, cheerful and bright venue. On that glorious day, the sun was brightly shining and smiled upon Paul & Beattie's wedding ceremony. After the solemn procession to the wedding podium, Paul & Beattie finally united in the bonds of holy matrimony with they vows of eternal love.The chords of "Beautiful Day", a song by the band U2 accompanied Paul & Beattie on their walk of happiness and joy on that very special day, at the playful side of paradise.