Nusa Dua, 24 January, 2012,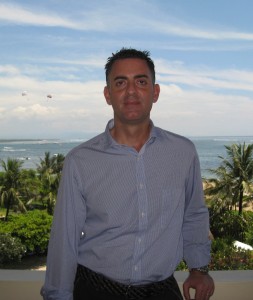 Grand Mirage Resort & Thalasso Bali is proud to welcome the new General Manager, Mr. Juan Antonio Sanchez.
Experienced in hospitality industry for over 15 years, Mr. Juan Sanchez is known as an impressive figure, has a strong leadership, and analytical thinking.
Graduated from the University of Seville (EUSA), this Spanish-born man who started his career in Munich, Germany, has been working with Melia Hotels International (previously named Sol Melia) since 1993 with experience in several countries; such as Spain, Germany and Indonesia (Jakarta &Bali).
Prior to joining Grand Mirage Resort &Thalasso Bali, he previously occupied the position of General Manager at the Melia Benoa, Bali, for 3 (three) years. Under his responsibility, Melia
Benoa has achieved numerous awards such as Melia Benoa best quality hotel brand worldwide in 2010 and 2011, Tri Hita Karana Emerald Certification, Green Globe Asean, and Earth check (Environmental Award, ex Green Globe).
Endowed with two twin sons, Mr. Juan Sanchez spends much of his spare time with his family, reading books and he is also a football fan, especially the Sevilla FC, Spain. Besides English & Spanish, he also fluently speaks German.
Mr. Juan Sanchez officially joined the Grand Mirage Resort & Thalasso Bali on January 16, 2012. His main responsibility is to bring Grand Mirage Resort & Thalasso Bali to new success by achieving the expected targets. The Grand Mirage Resort & Thalasso Bali team welcomes Mr. Sanchez and wishes him a great career and amazing and successful years ahead.
_____________________________________________________________________________________________
Grand Mirage Resort & Thalasso Bali is part of SAMABE GROUP. This 5 Star 'All Inclusive' Resort Hotel with a large white sandy beach right in front of the resort, is set among beautifully landscaped tropical gardens. Offering an almost unlimited choice of fun, entertainment and leisure activities, the Grand Mirage Bali Resort is synonymous with value and luxurious comfort.
CONTACT :
GRAND MIRAGE RESORT & THALASSO BALI
Jl. Pratama No 74, Tanjung Benoa 80363, Bali, Indonesia
Phone: 62 361 771888
Fax: 62 361 772148
Email :mail@grandmirage.com
Web :www.grandmirage.com