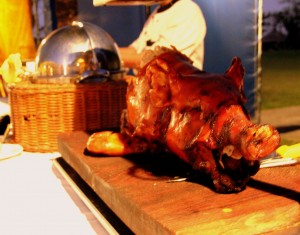 One of the worth drooling over Balinese cuisine is suckling pig- a whole-roasted pig. Known with its tasty pork and crispy skin, the pig cavity is stuffed with some herbs and Balinese spices such as turmetic, garlic, shallots and lemongrass before it is perfectly cooked over the fire. The suckling pig is usually served with rice and Balinese lawar (mixture of vegetable with coconut).
Balinese people used to cook suckling pig as special dish for their cultural ceremonies, but today, this food is served in any restaurants and hotel.
Grand Mirage Resort and Thalasso Bali dishes ups suckling pig during Saturday theme night buffet dinner- Balinese Village. This dinner costs USD 35++ for those who stay under bed and breakfast package, and is included for all inclusive guests.
###
Grand Mirage Resort & Thalasso Bali is a world-class Bali all inclusive resort. Offering 301 rooms and suites, 5 food and beverages outlets, wide variety of activities, this resort provides all what the guests need during the holiday.