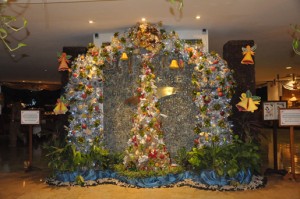 Christmas has always been very moment eagerly awaited by the Christians around the world. Christmas is always reminding us of the cold snow, beautiful twinkling Christmas trees, surprises & gifts from Santa Claus, a variety of delectable Christmas cakes, and eggnog (special Christmas drink) which became the pride of the people in western countries.
In Bali is no less festive. Although there is no snow, but the ambiance and air of tropical beaches of Bali gives the different impression on Christmas. Likewise with the increasing number of tourists coming to Bali as they get closer to the Christmas day shows that Bali is one of the Christmas destination in Asia.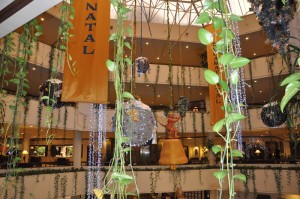 Grand Mirage Resort & Thalasso Bali, all inclusive resort in Tanjung Benoa Bali, presenting a variety of Christmas Dinner options that can be selected by the guests staying at this resort. Starting on Christmas Eve, the 3 world class restaurants in this resort provides reservations for guests who want to enjoy Christmas Eve Dinner. Starting from La Cascata, Italian restaurant located near the lobby area, the Grand Cafe, which served east to west buffet-style cuisine complete with a dessert buffet filled with delicious Christmas cakes, while traditional musical instruments named Kolintang plays Christmas tunes all night, Jukung Restaurant served Seafood & Grill menus with sparkling atmosphere of Christmas lights adorn the cool beach side. And the Panorama Lounge is the lounge & bar located on the second floor, holds a Christmas Special Cocktail Party and served a delicious eggnog & canapés, accompanied by fireworks and children choir who sang Christmas carols, complete with Santa Claus distributing sweets around to the guests.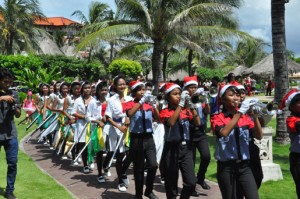 The next day, in the early morning of the Christmas day, guests were surprised by the arrival of Santa Claus and his helpers from the North Pole at the Rama Stage area, gave presents to the children that one day previously deposited by their parents at the Gift Center, "Cools Lounge" located on the 1st floor of this resort. Marching band and unique dances brought in specially to accompany Santa Claus on that day and the children playing happily and took pictures with Santa.
After meet & greet with Santa, the children were joined various activities and competitions organized by the Kids Club team. Among other such as puzzle competition, flower arranging competition, sack race, and many more.
In the evening, Christmas Dinner served at the restaurants, this time with different menus. La Cascata served delicious Turkey set menu and at the Grand Cafe, Santa Claus brought back to serve the guests accompanied by the Children Choir.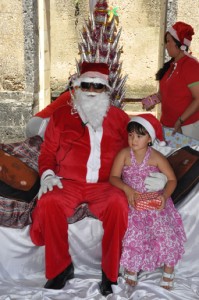 Beautiful Christmas decorations embellished the entire area of ​​the hotel. A number of Christmas trees with various sizes adorned throughout this resort with Christmas spirit. A very enjoyable holiday and will not be forgotten by the guests of the Grand Mirage Resort. Wishing you a wonderful Christmas and hope this Christmas filled with joy & happiness.