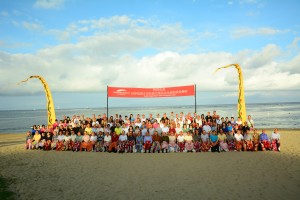 On Wednesday 18, 2013, Grand Mirage Resort and Thalasso Bali hosted a dinner of entrepreneurs' community, Fuqing. Their visit to Indonesia had the purpose to attend the Fuqing Congress in Surabaya. Having several-day- break, this group enjoyed their leisure time in Bali.
Arrived at 4.30 at Grand Mirage Resort and Thalasso Bali, 145 members of Fuqing directly walked downstairs to Mirage chapel for Balinese cocktail party. To welcome them, all the in-charge staffs dressed themselves in Balinese costume. On top of that, the Fuqing Group were required to wear Balinese sarong and traditional headband before they started the party. The feast was entertained by Kwartet performance who successfully made them gleefully sang on the stage.
The cocktail Party was continued with Grand Cafe dinner. The dinner was opened by Sekar Jagad dance- a traditional dance about how beautiful the world was with flowers. Cabaret dance accompanied them when they savored the tasteful Salmon with Ribs as the main course.
***
Grand Mirage Resort and Thalasso Bali is an all inclusive resort located on the southern part of Bali, Tanjung Benoa. Featuring 301 serene rooms, 3 restaurants, and 2 bars, this Bali accommodation highlights the five-star hotel standards through the facilities, rooms, and cuisine.