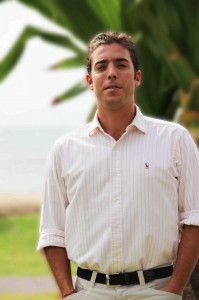 This summer, Grand Mirage Resort and Thalasso Bali opened its door to our new Resident Manager who will be responsible for overseeing the day-to-day operations of the hotel. Meet this young star in the hospitality industry, Joaquin Medina, who has garnered experience from working for many leading resort brands across the world, such as Pestana Resort in Portugal, Melia Hotels International in Madrid, Aston Bali, and Melia Benoa.
After finishing his studies in Switzerland, he decided to move to Bali 5 years ago and has found himself falling in love with the Paradise. Fluent in Spanish, English, Portuguese and little bit of Indonesian, Joaquin is known as a charming person with a strong will. "To be happy with what you are doing and to live with passion is the key for success", he adds.
During his career in the hospitality industry, he has achieved some remarkable awards such as The Best Quality Awards in 2010 and 2011 and The Best Implementation of Revenue Management in Asia Pacific both for Melia Benoa. From the point where he started his career with a 5 Star resort in Portugal, he has gained 9 years of experience with the world's famous hotels. Having been working in many countries, Joaquin is ready to take Grand Mirage Resort into the next service level.
The gentleman, who holds a Bachelor Degree from Les Roches University in Switzerland and a Diploma in Revenue Management from Cornell University, loves to have "un tapeo" (finger food) and a glass of wine together with friends while listening to some Flamenco. During his spare time, he likes to travel, cook, or hang out with his best friends.
Welcome on board Joaquin! Wish you an amazing career in Grand Mirage Resort!