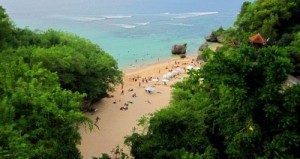 When you visit Bali, perhaps you are already familiar with the local beaches such as Kuta, Legian, Sanur and Nusa Dua. But have you ever heard about Padang-Padang?
If you drive about 15 minutes from Dreamland (Jimbaran area) and turn onto Jl. Labuan Sait after the main road, it is there that you will discover what is hiding behind the towering cliffs and majestic palm trees. Like an oasis in the dessert, a little white sandy beach, long coast line surrounded by steep cliffs.This is what you will discover after following the steep stairs down, flanked by rocky cliffs, or you might say "like a tunnel in a cave".
If you go there at sunset you will see a beautiful golden tinge above the face of the sea's surface and the refraction of light that hits the coral below and the cliffs above. Groups of lovely butterflies playing amongst the rocks and the beautiful warm white sand under the radiance of the sun.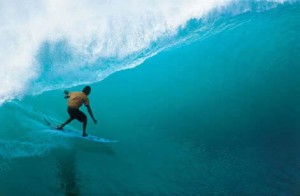 For surfers, this beach is suitable for those who are already professional as the waves are quite extreme and challenging, definitely not for beginners. You also can take shelter under the shadow of the cliffs towering walls while sampling a variety menus from the local food vendors. The cliffs covered with lush green vegetation and the sea gently caressing the white sandy beaches is a breathtakingly beautiful scene waiting to be discovered by you.