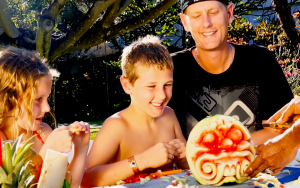 Renowned as a travel destination with its nature, culture, adventure, Bali offers various Bali activities to experience, values to teach, warm people to meet, or anything to enrich the children in effort to learn about what a real life is. Here are 5 things to do with the children in Bali:
1.    Screaming for Fun in Waterbom
Acknowledged by Trip Advisor as number 1 Water Park in the world in 2013 and 2014, Waterbom Bali offers 9 rides, such as pipeline, a 150- meter twisting pipe which allows people to slide from the top in 13 seconds. The adrenaline-pumping rides and attractions will challenge the kids.
2.    Getting closer to the Winged Animals in Bali Bird Park
About 1000 birds are kept in the park designed like birds natural habitat. The Bali Bird Park Staff organizes 9 different shows or attractions for the visitors, such as feeding pelican and bird of prey show. Bali Bird Park tickles the curiosity of the little ones.
3.    Being Acquainted with the Wildlife in Bali Safari & Marine Park
Exciting safari journey will bring the visitors to see around the park that is designed like habitats of animals in Indonesia, India, and Africa. There are some other attractions in the park, such as theatre, and Water Park.
4.    Learning to Carve the Fruit
Balinese people decorates their feast dining tables with carved fruit. Therefore, the artistic sense is already in their blood. They can turn a watermelon into face or an apple into a mouse without magic. If travelers would like to learn, how to do it, there are some classes of fruit carving, such as in Grand Mirage Resort & Thalasso Bali, where the Balinese people share how to do it.
5.    Experiencing the First Massage
You can't go wrong at Thalasso Bali spa. It offers treatments for kids and adults. Even the spa dedicates one room for little prince and princess. Advance reservation is needed at least 2 days prior the treatment day.
###
Grand Mirage Resort & Thalasso Bali is a beachfront resort on the southern part of Bali, Nusa Dua. The resort offers all inclusive with various activities and facilities. For further information, please visit www.grandmirage.com