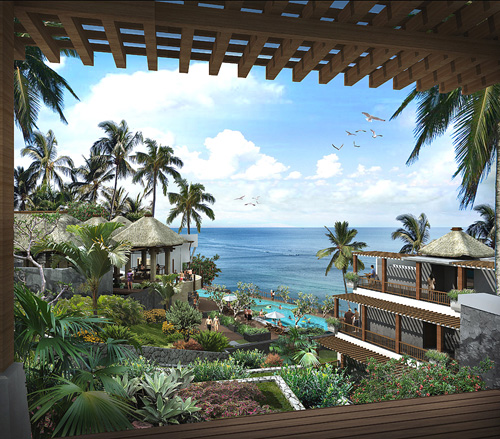 Samabe Bali Suites & Villas is ready to welcome you in December 2012. And finally, Samabe Bali has created the names for the restaurants, bars, and wedding venue, presenting a whole world class & luxury wedding, dining and lounging experience.
Te.Ja.Co Lounge & Bar – the lobby lounge
Tea (Te), Jamu – meaning herbal (Ja), and Coffee (Co) recipes from Indonesia are served with a selection of Indonesian snacks to complete a picture of afternoon indulgence.
Rempah Rempah - the main dining area
Meaning 'rich spices' – Rempah Rempah is accentuated with stone and timber and accessorized with spice displays that perfectly complement the beautiful backdrop of lush greenery and water ponds.
Ring of Fire Pool Bar - the ocean cocktail lounge
Feel the touch of lavish and divine senses once you step into our pool bar. Offering a full range of alcoholic and non-alcoholic drinks, including premium brands spirits and signature cocktails, Ring of Fire will indulge you and complete your relaxing evening.
Crystal Blue Ocean Grill – seafood, steak and sushi by the pool
With dramatic vistas of the Indian Ocean, Crystal Blue Ocean Grill proudly presents you our gastronomic tour de force with vast array of fresh seafood, steak and
sushi options. The largest individual seating area is a 20-seat open-air artfully teakwood deck.
Romantic Cave Dinner – secluded and private Caves by the beach
Hide yourself and your loved one in an intimate world of our private cave, an exotic selection for a personal and very romantic dinner. Our delightfully prepared set menus, sweets and savories' selections will make your enchanted moment unforgettable.
Wedding Venues: "White Pearl" & "Secret Cave"
With 180-degree views across the ocean, the 'White Pearl Chapel' and the 'Secret Cave' by the beach are your options for a wedding that you will cherish for the rest of your lives.