If you are wishi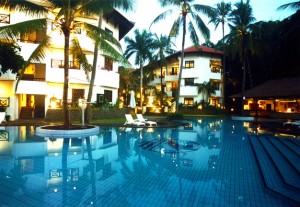 ng for an exceptional retreat experience without having all the headaches of arranging fun activities for the kids and yourself, making sure that mealtimes are happy, carefree and tasty, plus you want to enjoy a variety of conveniences, the Club Bali Mirage is definitely suited to your needs.
Imagine enjoying the enchanting view of the blue waters of the Indian Ocean from the privacy of your own balcony, or a leisurely walk along the silky white beaches that lay out before you like a carpet along the coast. Our all-inclusive resort is suitable just for you, and promises a pleasurable holiday that will be etched in your memory. All rooms and suits are purposely designed with complete amenities including; a comfortable sofa bed, individually controlled air conditioning, satellite TV, hairdryer, IDD telephone and a safe deposit box.
By choosing the "all-inclusive" or "room including breakfast" package, you will discover the definition of pleasure. Start your day and savor our breakfast buffet menu at Kemuning Restaurant. Then sample our daily selections oflunch buffet menus at Kamboja poolside bar & restaurant. You will also be entitled for our all day programs, scheduled sports and pool activities. Indulge yourself with our selection of relaxing treatments at our spa or choose from an extensive array of non-motorized water sports such as catamaran sailing, boogie board lesson, ocean kayaking, and much much more.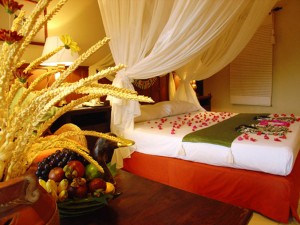 Planning on having an exotic wedding? Why not at Club Bali Mirage? Our expert team is standing-by to assist you with arranging your fancy wedding and to help make all your dreams come true, with beautiful decorations and wedding services at the beach.
For more information, come and visit Club Bali Mirage at www.clubbalimirage.com a place where you can find everything you need for a delightful vacation, arranged with simplicity.