DEVDAN – TREASURE OF THE ARCHIPELAGO
"A new and spectacular stage show in Bali"
"Devdan – Treasure of the Archipelago" is a refreshingly new and exciting night time entertainment activity in Bali, and it truly is a "must see show" for those visiting Bali.
Taken from the ancient Sanskrit words "deva" (God) and "dana (gift), the show's title "devdan" means "a gift from the Gods". The story of Devdan begins in Bali where two young children are lost in the jungle where they make an astonishing discovery, a hidden treasure chest full of ancient artifacts. And then, as they open the treasure chest their magical journey traveling across the vast Archipelago of Indonesia begins.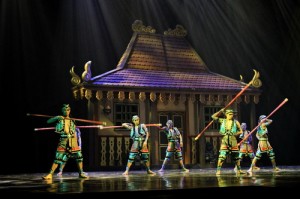 Along their journey to the islands of Bali, Java, Sumatra, Borneo and Papua, two young children experience vibrant villages alive with song & dance, mischievous gangs of monkeys, the mysterious Kecak Dance, torrential rains and more.
Feel your heart beat with excitement as you encounter gigantic traditional puppets, an enchanted weaving hut that comes alive with magnificent and brilliantly crafted hi-tech special effects, superb illusions and life defying aerial acrobatics.
Explore the genuine heritage and beauty of Indonesia with the show's contemporary songs and dances, accented by dramatic and thrilling action along with contemporary music, dance and aerial acrobatics. This mega production is truly a "once in a lifetime experience"; don't miss it while you are in Bali.
Visit our website at:www.devdanshow.com for more information.