How if olive oil is mixed with shrimp, chilli, onions, and rice?
Find the answer in Grand Mirage's cooking class!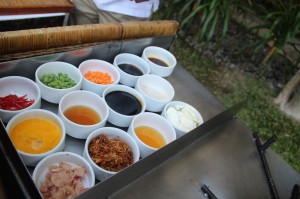 Equipped with 13 ingredients in bowls, stove, and other cooking tools, Bayu, our activity staff, invited everybody passing the pool to join the cooking class. His cheerfulness had successfully invited 5 people to learn how to cook Mirage Nasi Goreng. Few minutes later, a chef came and greeted everybody before she started bewitching those 13 ingredients into 1 appetizing dish. It took about 10 minutes to cook this special Indonesian dish.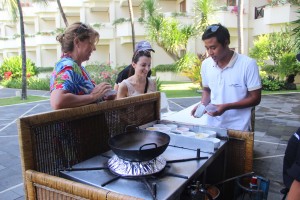 Every spoon of this Nasi Goreng echoed the taste of Indonesia. The sensation of sweet and salty taste tickled the taste bud. Nothing but addictive was the best word to describe this Nasi Goreng. After every guest had tasted the Nasi Goreng, Bayu invited them to cook the Mirage Nasi Goreng with their own creation.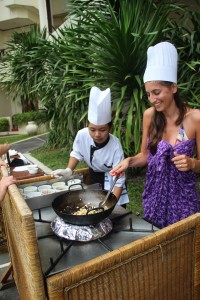 This cooking class is set every Thursday at 2.30pm-3.30 pm next to Coconut Bar.
Don't miss this class!
Cooking Class
Place: In front of Playground
Day: Every Thursday
Time: 2.30 pm-3.30 pm
***
Grand Mirage Resort and Thalasso Bali is a 5-star beachfront resort offering a fun all inclusive. Unlimited food and beverage, unlimited  non motorized water sport, and other inviting inclusions are designed to indulge the guests. Located on the seashore of Indian Ocean, this resort offers 301 rooms and suites with private balconies to unwind whileenjoying the infinite ocean view or lush garden view. A wholehearted service from this Bali resort will make the holiday memorable.