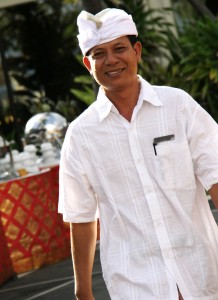 "Gusti" That is the word written on his name tag. The typical Balinese name he acquired from his family signifies that he is a descendant of Balinese Khsatriya (soldiers), one of the noble castes in Bali. However, Mr. I Gusti Bagus Gede Suadnyana is not revered only for his caste, but also for his leadership. He is recognized for his quick response on accommodating the customers' needs along with his warm smile during the theme night buffet dinner at Rama Stage, wedding, meeting, and other events.
Career Path
Looking back at his early career at the all inclusive Bali hotel in 1997, Gusti was a waiter in Grand Café for 6 months before he was promoted to be a supervisor. His career kept improving in Grand Mirage Resort & Thalasso Bali. After 1-year dedication as a supervisor, Gusti held a new responsibility as the assistant of FB Manager. The title attached to him for 3 years before he was trusted as Banquet Manager. Until now, he has led the banquet team for 12 years. He has proven his hard work from the team immaculate harmony during the working time.
"Mr. Gusti is such a good leader. He emphasizes discipline and honesty." said Made Sudiarta Wijaya, the banquet supervisor who has worked with Gusti for 13 years.
Reasons for his Decision  
Gusti enjoys the challenges in working with various events at Grand Mirage Resort & Thalasso Bali. Different demands from either event organizers or guests have taught him to be what he is now. And all the lessons he got during his dedication at the Bali hotel has created a connection between him and the resort. Gusti finds his family here.
Tips for being a Great Guest Agent
"Make the guests happy" and "never complain" He always implants the ideas in every member of banquet team, and it is effective. The team consists of young energetic men and women performing great team work and swift service. If you notice them, they are the smiley people who are always ready for you during the buffet dinner at Rama Stage, and Gusti is one of them.
Short Biography
I Gusti Bagus Gede Suadnyana was born on the eastern part of Bali, Karangasem,  48 years ago. Gusti is now married with 2 children and living with his family in Dalung, Denpasar.
###
Grand Mirage Resort & Thalasso Bali is a Bali beach hotel on the southern part of Bali. It was built in 1993 and has been acknowledged as an all inclusive operator in Nusa Dua. For further information, please visit www.grandmirage.com
*The Spines' Stories are the stories of the Grand Mirage Resort and Thalasso Bali remarkable staff. They are the backbone of the Bali all inclusive resort who always go the  extra mile to assure that every stay is enjoyable.