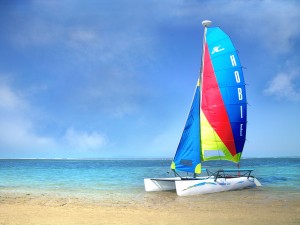 "The ocean stirs the heart, inspires the imagination and brings eternal joy to the soul."

— Wyland, Marine Life Artist
The quote briefly illustrates the reason of exploring the ocean. It brings joy, the sensation of happiness which can trigger a shout of enthusiasm or yell of panic, while the serenity keeps thrusting the soul. It was exactly what I perceived when I sailed on Tanjung Benoa ocean with catamaran. It was a kind of sailboat which can accommodate about 7 people inside (including 1 operator), but as I traveled alone, I sat on that catamaran only with the dark-skin Balinese man that had a savvy on operating this plastic polyester boat.
I was asked to wear my safety jacket and take out all my belongings from my pocket. I, then, leaned on the side of catamaran when the man was busy reading the wind and directing the sail. The boat slowly sailed away from the beach. I felt the breeze blow my hair and my face. The crushing wave sound was harder when the catamaran sailed to the middle of the ocean. Breeze, wave, and the view of the beach from the ocean stunned me for couple of minutes until the breeze suddenly turned into strong wind and seemed that it was ready to capsize the boat. But the man knew well how to conquer the wind. He redirected the sail without any worries while I was embarrassed as I panicky screamed the only Balinese word that I knew "Bli!" which meant brother in Balinese language.
After 15 minutes floating on the sea, the catamaran landed on the starting point, which was Grand Mirage Resort beach.
 -Anonymous-
***
Located on the seashore of Indian Ocean, Grand Mirage Resort and Thalasso Bali provides various kinds of non-motorized water sport that mark the holiday in Bali such as windsurfing, catamaran, and kayak. Those special activities are included in the Gold All Inclusive Package which is offered as the main product of this resort. For further information, please visit www.grandmirage.com