Freshness your day, with this COCO LOCO SPECIAL SIGNATURE COCKTAIL, while you have fun in the sun with your friends or family at our swimming pool, only served at the Pool Bar, Grand Mirage Resort.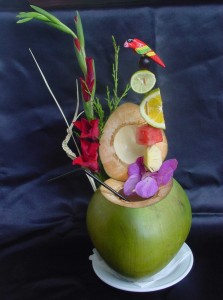 Ingredients :
Arak Padi              : 1,5 0z
Galiano                  : 1,5 oz
Apricot brandy     : 0,5 oz
Lime Juice             : 0,5 oz
Orange Juice         :  3  oz
Pineapple Juice    :   3  oz
Method : Shaking
Served in coconut
Garnish : Flower, stirrer.
Enjoy your holiday with this very special signature cocktail. Do not miss to try this great stuff, only at the playful side of the paradise.