Being loyal is not a piece of cake, but our superstars of August have proven that they deserve the awards of "August Best Employee". Meet I Nyoman Suwana and I Gede Made Rai Sukadana
I Nyoman Suwana
Room Boy- Joined in 1993
I assure our guests have wonderful stays by keeping the room neat and clean. This includes making bed, mopping the parquet, and refilling the amenities.
What is the challenge of working as a room boy?
At the moment, my age. My energy is not as abundant as that of 10 years ago. I somehow feel exhausted for tidying up 15 rooms in a row. However, I understand it as my main responsibility, and my passion energizes me every morning. My family motivates me a lot.
Who inspires you most?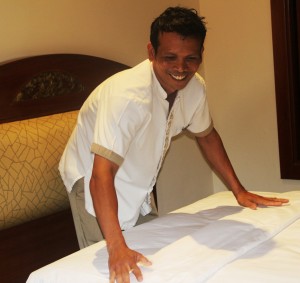 I adore Mr. Kona, the first Executive Housekeeper I met in Grand Mirage- a hardworking and down to earth leader who always motivates the colleagues. Though he was tired, he always worked so hard- and it inspires me a lot in maintaining my work quality and being an example for my team.
What do you do after work?
I spend the time with my family- walking around the complex with my children. I treasure every second with them as they are my sources of happiness.
How do you see yourself 5 years from now?
Establishing a daily need shop selling soaps, snacks, etc. Cooking is not my middle name, so I will not open a typical restaurant.
I Gede Made Rai Sukadana
Storekeeper and Purchasing Staff- Joined in 1993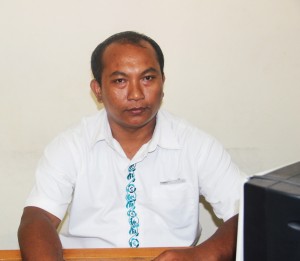 My job is to guarantee every single thing needed by Thalasso is available. Driving around Bali to shop is my routine during the working time. I even do more shopping than my wife does.
What is the challenge of working as a purchasing and store of Thalasso Spa?
I used to work for Thalasso only, and now, I work for 2 properties, Grand Mirage and Thalasso Bali.  To adapt to the new work load needs an effort. However, I love my job. Spending time on the street releases my stress, though it is a part of my job.
Who inspires you most?
Ibu Arini, my current spa manager.  She supports her team much and does not mind to work overtime.
What do you do after work?
I have green thumb- I can spend hours with my plants. It feels like I have achieved something when I watch them growing up beautifully. In the evening, I accompany my wife to shop in the market- she will resell it on the next day.
How do you see yourself 5 years from now?
I own my restaurant. My wife cooks the most delicious dish in the world. We have started to save money to establish it.
Grand Mirage Resort and Thalasso Bali is a 5-star beachfront resort offering a fun all inclusive. Unlimited food and beverage, unlimited  non motorized water sport, and other inviting inclusions are designed to indulge the guests. Located on the seashore of Indian Ocean, this resort offers 301 rooms and suites with private balconies to unwind while enjoying the infinite ocean view or lush garden view. A wholehearted service from this Bali resort will make the holiday memorable.