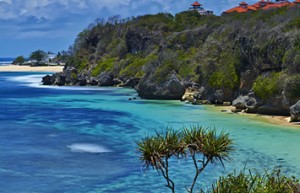 Have you ever seen The Beach starring by Leonardo Di Caprio? This film tells about Richard (Leonardo Di Caprio), an American college student, goes to a beach paradise on a secret island in Thailand. The beach has gorgeous white sands and clear blue
skies. And in fact, you can find the same beach here in Bali!
Geger Beach is one of the most beautiful beaches in Bali, located in southern edge of Nusa Dua or within 15 minutes driving from Grand Mirage Resort. Even it's a little bit hard to find this beach because of its hidden place, however everything will be paid off when you see the gorgeous white sands combining with blue seas and quiet wave. In addition, the sea near the shore is shallow and flat. Definitely a perfect atmosphere for swimming! In other hand, this sea also offers great waves for surfers. You only have to swim further to approach these waves.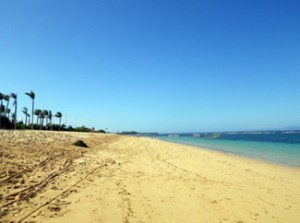 In Geger beach you can also ride a camel. You can contact our Tour Desk Attendants in the Lobby area to arrange this camel safari. By taking a route along the coast to coast safari for approximately 1 hour will certainly be a very interesting experience and unforgettable moment. For you who arrange a perfect wedding in
Bali, Geger beach also a favorite spot for pre-wedding photo session. Its beauty will make your photo album more romantic.