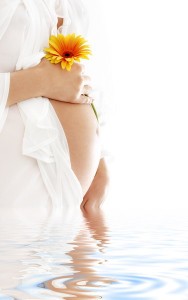 " To be pregnant is to be vitally alive, thoroughly woman, and undoubtedly inhabited."

Anne Buchanan and Debra Klingsporn
Are you in the joyful moment of connecting yourself with an early soul inside you? A cot, little clothes, a box of pregnancy milk- all of them are on your shopping list already. The zest really controls your body and you forget to love your body as a human being till your body alarms you with backache, swollen feet, and hands. Before those unexpected pains hit you, you would better treasure your body with a Thalasso Bali Treatment: Elemis Mother to be Rituals. The seasoned therapists in this Bali spa have a savvy on how to pamper you.
This innovative treatment would be launched in the early April. Designed to lessen the pain on feet and hands, alleviate the backache, the massage applies several techniques adjusted to the pregnancy stage. The main ingredient of the treatment is Elemis, a well-trusted British product.
Like what the author, Merete Leonhardt- Lupa said "Let us make pregnancy an occasion when we appreciate our female bodies", you should never let your body alarms you with twinges.
###
Grand Mirage Resort & Thalasso Bali is situated on the dreamy seashore of Indian Ocean. Embracing French therapy concepts which use marine elements as the ingredients named Thalasso, Thalasso Bali spa offers various curing and relaxing treatments with sea water, seaweed, and other sea elements. On top of that, this spa provides treatments with international and natural healthy and beauty products. For further information, please visit www.grandmirage.com