Situated at the hear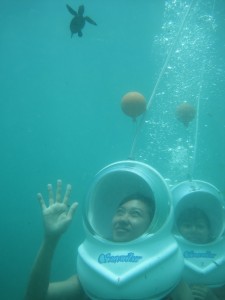 t of Tanjung Benoa, one of the most famous places for leisure in Bali, Grand Mirage Resort & Thalasso Bali is truly a tropical hideaway, fringed with powder beige beaches and pristine coral reefs. Home to an opulent holiday getaway with a wide range of accommodation to suit every need, this fine Bali beach resort offers a sweeping selection of activities that will surely entice curiosity. One of the resort fun is Seawalker.
Seawalker will take you below the sea surface to give you an exceptional and enriching experience.
Seawalker is the easiest way to explore and discover biodiversity of aquatic life in the Indian Ocean. As simple as walking and breathing normally without getting your face wet, Seawalker offers you a new horizon with different perspectives on how to see and interact with the underwater world.
Sea Turtles & Corals Preservation
Nowadays, sea turtles are endangered species and their endurance remains uncertain in the future.  Being concerned with their existence, the resort supports the local community through preservation of its surrounding ecosystem, and is delighted to work hand by hand with the Seawalker operator at the resort to release baby turtles and plant corals deep below the ocean. These baby turtles belong to the category of 'Olive Ridley' – generally greenish in color on the skin and shell. The corals come from the 'Acropora' species that can grow around 6 – 10 cm in height.
Heading to the diving point takes around 10 minutes from the resort private beach. Once inside the ocean, you will come in contact with the pristine underwater world. Holding baby turtles deep below the ocean is an awe-inspiring experience. These little creatures seem to be impatient to be released. Once they are, they swim up to the surface directly. As for the corals, the Seawalker operator has built a coral preservation on which adopted corals are planted and regularly checked by some ecologists to monitor their growth.
All in all, sea turtles release and corals preservation are a worthy experience to remember.
For enquires, please go to www.grandmirage.com