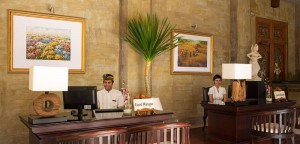 The title is quoted from the letter of Nicola Michael George & Eleanor Lee to Grand Mirage General Manager. The staff has successfully impressed them during their stay at Grand Mirage Resort and Thalasso Bali.
Dear Mr Sanchez,
Just wanted to let you know about our recent stay at your hotel.From start to finish, we had a very relaxing and happy holiday. Our family of four stayed for fifteen nights.We booked a suite (2253) which was great. Plenty of room for us all,nicely fitted out and very comfortable. Nice quiet location.
The grounds and pool were great. We found plenty of sun beds beside the beach. The garden beach and grounds were kept immaculately clean and well maintained and noted the correct level of security, reassuring.Restaurants, fantastic. We booked all inclusive and could not fault any of the selections. All meals excellent. As we're the drinks. We also attended a few theme nights, which were a good alternative to the restaurants.
Staff, well what can you say, all without exception we encountered were helpful, seemed happy and just lovely.We particularly would like to mention the lady who cleaned our suite,she and others did a wonderful job. She was also trying to improve her English, so it was great having a little conversation each day. Well done to her. ALL of the staff at the sports department. They do a fantastic job encouraging guests to participate in various sports. We tried most.Especially enjoyed the water aqua aerobics, volley ball, we had such a laugh.
The kayaks and motoried sports were also professionally managed. We would particularly like to mention Eddy and the others(really sorry bad with names!) who organised and played football and volley ball every day with my son.It was the best bit of his stay he says. Do tell Eddy to improve his snooker though!! Can't thank them all enough

The lady beside the pool and the towel men who were always cheerful, keeping things tidy around the pool area.Breakfast restaurant, the ladies managing the seating were very professional and polite, especially when dealing with rude guests. How they keep smiling I don't know? There was one particular young man whom waited on the tables each morning. He has only been working at the hotel for one month (wore a headdress ) we spoke briefly each day.
He absolutely loves his job and told me how he had been to waiting college and now was so happy to be working at Grand Mirage! Really sad I can't remember his name.Always smiling. Synthia at the spa. Fantastic massage and facial. She was very professional and very gentle. Thank You.
Finally,the kind person in the kitchens, who provided ginger tea for my bad stomach!! It really helped. Especially prior to our 13 hour flight home!
Please convey our thanks and as I mention every member of staff we encountered were always smiling and happy to help.
Finally, we did a lot of research before we booked our holiday. We were so pleased that we weren't disappointed. We hope to return again in the near future.
Yours Sincerely
Nicola Michael George & Eleanor Lee.
Grand Mirage Resort and Thalasso Bali is a 5 star Bali resort offering fun all inclusive. Located on the seashore of Indian Ocean, this resort offers 301 rooms and suite with infinite ocean view or lush garden view. Uncompromising luxuries and a wholehearted service from this Bali resort will leave an unfaded feeling of enjoyment.