Whether you are planning a nuptial at the chapel or the beach, here is the guidance to prepare your once-in-the-lifetime moment at Grand Mirage Resort.
1. Contact the Wedding Team
Basically, this Bali resort has a savvy on how complicated a wedding preparation is. Therefore, Grand Mirage will assist you through the hands of the wedding team which consists of people who have been working with weddings for years. They could be contacted via email at wedding@grandmirage.com. In response to your email, one of the persons in team would send you a proposal with package inclusions, rates, and other information.
2. Inspection
This is one step that should not be skipped.  If you are coming to Bali, you had better meet Grand Mirage wedding team in their new office on the lobby level. Going around and seeing the venue by yourself will certainly give an idea on how your wedding dream be realized later. Our wedding team is also expecting your feedback after the inspection- in case a brilliant idea to beautify your wedding pops up in your mind. The technical details discussion such as hair and make-up, video and pictures, decoration, food and beverage and also the negotiation could be continued via email.
3. Rundown Discussion
This discussion commonly takes place in the wedding office of Grand Mirage Resort and Thalasso Bali when you have checked in. In this step, the husband-and-wife to be and the wedding team decide on the specific time and rundown of the D-day.
4. Wedding Matrimony
Your special day is finally coming. The wedding team is ready to assist you every time you need them.
Hopefully this article could provide you sufficient information on the steps of getting married in Grand Mirage Resort.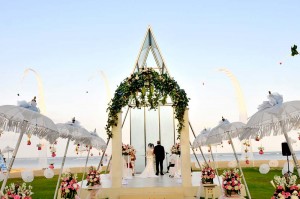 ###
Located at the southern side of Bali which is blessed with beige beach and sapphire ocean , Grand Mirage Resort and Thalasso Bali offers 3 different outdoor wedding venues: Mirage Chapel by the beach, beach, Rama Stage. These venues can accommodate from 10 to 250 invitees. For further information visit www.grandmirage.com.