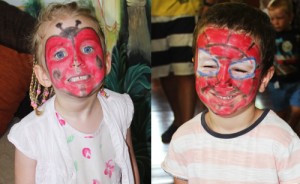 "Kids are so dynamic; if you're tired and you walk into a roomful of kids, your energy is brought up to their level."

-Jenna Bush-
It is the sense that you will perceive when you approach the crowd of children in Bamboo Kids Club during the face painting session. They surround Karyati, the kids club coordinator, who is painting on a girl's face. "I want my face painted too!" the sentence comes from the children who are impatient that causes an amusing noise. If you are in bad mood, watching the kids' faces that are full of enthusiasm is the best antidote to neutralize even to boost your mood, especially when you notice their smiles after they have their face painted like butterfly,lady bird or the popular mutant hero, Spiderman.
Taking place on either beach or in the kids club every Friday at 10 am, face painting is one of the activities on Bamboo Kids Club. This activity has fruitfully energized the kids and kept their faces cheery. The substance which is used to paint is the safe one for the kids' skin.
Grand Mirage Resort is a children paradise of which kids club is colorfully designed. To keep your little prince and princess safe, two attentive children coordinators are always in a place- so the parents are free from worry.
 ***
Located on the southern part of Bali, Grand Mirage Resort and Thalasso Bali is awesome with its infinite sapphire ocean. Featuring 301 rooms and suites and 5 food and beverage outlets, this resort offers fun all inclusive that will not let everybody to leave Bali. For further information, kindly visit www.grandmirage.com