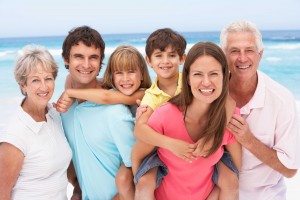 Tanjung Benoa, October 2013- Grand Mirage Resort and Thalasso Bali recently launched the new Family Reunion Package for All Inclusive. Blessed with unrivaled view of the flawless marriage between turquoise ocean and golden sandy beach, Grand Mirage uses this felicity as the setting to re-strengthen its clients' family bonds.
Appreciating the in-depth meaning of a family connection, this Bali resort grants an unwinding afternoon tea at Mirage garden, exquisite feast by the beach, and CD of the pictured family moments gratis for a big family that reserve minimum 5 rooms with at least 3 night stay with all inclusive. The Private Garden Afternoon Tea Picnic is neatly set up with wooden tables and cushions on Mirage Garden that points the sea. Rich variation of snacks and tea, and coffee are served, while the family is treasuring the moment of togetherness. One dedicated staff is ready to ensure that everything is up to the family's liking.
The Private Tropical Family Dinner is an occasion that is creatively presented for a big family. Exclusive decorations on the beach and appetizing dishes mark this dinner as a highlight in the whole year. A convenient family sharing time with soothing sound of waves that boosts the serenity is really a moment that this all-inclusive resort longs to build.
For those who are missing the warmth of family reunion, reservations could be done directly via our website www.grandmirage.com.
Grand Mirage Resort& Thalasso Spa
Address: Jl.Pratama 74 Tanjung Benoa PO BOX 43 Nusa Dua 80363, Bali Indonesia
Phone : +62 361 771888
Website: www.grandmirage.com